Granite & Quartz Countertops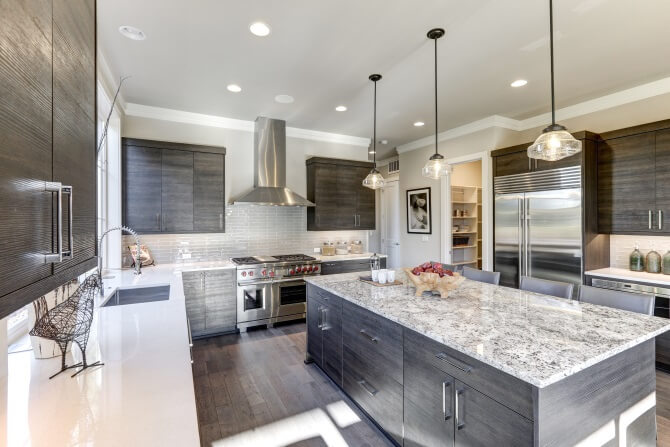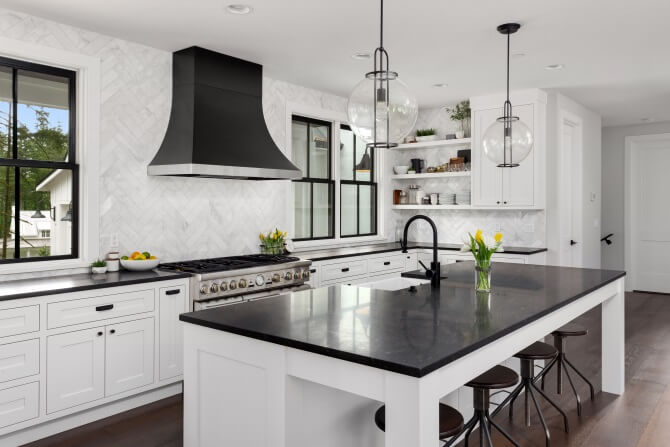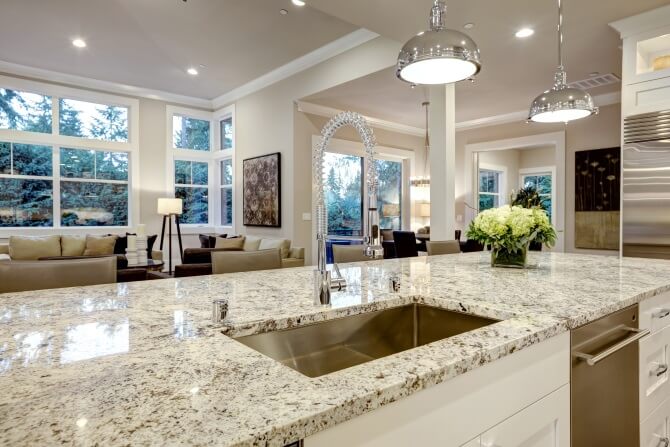 Quartz and Granite Countertops are a great way to give your home a luxurious, sleek aesthetic. They instantly brighten a room and can also help to add value to your home, especially if you decide to sell. You will most certainly see the return on your investment.
The investment aspect of quartz & granite countertops cannot be overstated, whether you are merely wanting to change the dynamic and look of your kitchen, or whether you may sell your home eventually. Many buyers are instantly turned off at the sight of laminate countertops, because they know they will have to replace them.
Quartz vs. Granite: A Comparison
Quartz countertops are made of a mix of quartz and man-made resin. They are less likely to stain than granite, but more prone to heat damage. Granite, by contrast, is a natural stone that needs the application of a sealer once a year, but costs less than quartz.
Quartz: The Pros and Cons
Quartz is just as strong as granite but more flexible and thus less prone to cracks or chips
Quartz is non-porous and never requires sealing, so it is virtually maintenance-free
Quartz is stain-resistant but not indestructible
Quartz can discolor over time if exposed to direct sunlight. If one part of your countertop gets more UV rays than another, you may notice this over time
You may see seams in quartz countertops, although darker colors make these less visible
Granite: The Pros and Cons
Granite is not uniform in appearance- some will consider this a pro and others a con
Granite countertops must be sealed every year
Granite is durable but not indestructible - it can break or chip, although if handled properly will last a lifetime
Granite will show seams, but this will be reduced by a good fabricator
Samples can be deceiving because they may not look exactly like the stone you receive, but picking a full slab will avoid surprises
Cost: Which is more affordable?
Granite is cheaper than Quartz (entry level granite is about $40/ft2 and quartz is about $70/ft2) For a 28 ft2 countertop, you can expect to pay $2000-$3000 for quartz and slightly less for granite. Due to the competition between these two products, quartz's prices have risen and granite's have fallen.
Environmental Impact
Sustainability is often a consideration when choosing your countertops. In general, quartz countertops have a lower carbon footprint. Many of these products contain recycled material and use an eco-friendly manufacturing process, whereas granite needs to be quarried and then shipped to be manufactured.
Newer environmentally friendly products are starting to become available. These products are mostly manufactured here in the United States, reducing fossil fuel emissions, and also are usually Greenguard Certified, which means there is no impact on indoor air quality.